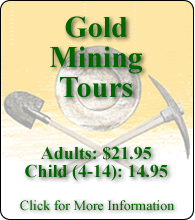 Phone:
(720)548-0343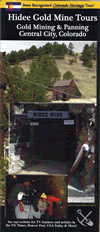 Calendar ~ COMING SOON
Thank you for your interest! The miners and supporters of the Hidee Gold Mine have been working since 1988 to bring to life the rich history of mining near Central City & Black Hawk Colorado. We concentrate on local geology, history, and explain mining methods both past and present. Tours include a stop at a real 5 foot vertical gold vein where you can use a single jack hammer and chisel(provided) to chip a gold ore sample loose, yours to keep!
Mining for Gold! 15sec
Featured
News & Reviews
The Denver Post in "Outside Guide Colorado Mine tours" and "Five days, then rescue"
The History Channel on 10 Things You Don't Know About "The Gold Rush" with Henry Rollins" and United STATS of America "Money Talks"
CBS TV on "Colorado Getaways"
FOX TV WB2 on "The morning news" featured by Chris Parente and then Dan Daru
The Weekly Register-Call in "From mining to Maserati's"
AAA Companion
And MORE! click here!
MeTV 8:49min and worth it!
Mine Tours:
Adult 15 & up: $xx
Child 4 - 14: $14
Gold Panning:
$3 with tour
$5 with out tour
Discounts:
$2 off for Seniors
$2 off for our Military
Children 3 & under are free but must be accompanied by an adult for their safety
MAILING ADDRESS:
PO Box 1043
Central City, CO 80427

PHYSICAL ADDRESS:
MM 6.3 Central City Parkway
Central City, CO 80427

PHONE: (720) 548-0343
E-MAIL: info@hideegoldmine.com
Educational discounts to all recognized school / university groups
Group reservations
available all week with minimum $360 purchase
Reservations must be made 7 days in advance for group and educational discounts to apply (thanks, this gives us time to assemble extra guides)
To visit outside of these hours please call or email for tour availability